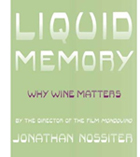 Jonathan Nossiter's new book, Liquid Memory: Why Wine Matters, has gotten two major reviews in the first two weeks since publication. One was lukewarm. The other was a kick in the solar plexus.
Even though its themes were widely discussed in the wine world, audiences did not flock to see Nossiter's 2004 documentary, Mondovino, which racked up only $200,000 in box office gross according to IMDB. (Sideways was north of $100 million, by contrast.) I found Mondovino to be shaky, not stirring.
The first review of Liquid Memory came in the NYT Book Review, written by Jim Holt (who is credited as "writing a book about the puzzle of existence"). He offered this warm beer as criticism: "Nossiter didn't completely win me over." Despite this, the book soared on Amazon's sales rankings.
Now get a hold of Mike Steinberger's review, just published on Slate.com. He writes that the "solipsism, self-regard, and preening" on display in the book would make the subtitle "Why I Matter" more apt. He also catches Nossiter displaying faux populism both in Nossiter's lexicon for talking about wine that (literature) as well as the high prices of the wines that Nossiter recommends (Roumier, Roulot, and Dominique Lafon). And he accuses Nossiter of fighting yesterday's battles.
A great line line from the review summarizes Nossiter's regrettable tendency to paint his villains with a partisan brush: "The wine world is certainly no Eden, but at least among the grape nuts I know, there seems to be a tacit understanding that politics should end at the rim of the glass—that arguments over wine are spirited enough without injecting politics into the discussion."