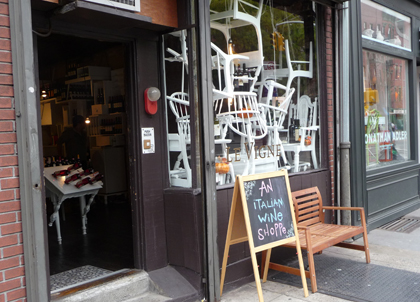 You'd have to be crazy to open a wine shop in a recession. But don't tell Carlo Orrico.
The enthusiastic, 26 year old proprietor of Le Vigne in Greenwich Village opened the door to his tiny wine store in late July. But that was the culmination of the lengthy license application process, which lasted almost a year. Before applying for the license, he had to have a lease on a space, which he signed last August. Despite having a backlog of 3,000 applications, Carlo said that the State Liquor Authority told him that the application process would take about six weeks and if there were no existing liquor store within 500 feet, the process would be smooth. Instead, the process dragged on and the space sat vacant, eating his rent. Since he had quit his job, he tried to find another but had difficulty: he couldn't even get a job as a server at some BYOB restaurants in New Jersey where he had worked growing up. He relied on loans from friends and family.
In April, the SLA gave him a license so he had to set about designing the space. The 400 sq ft store housed a travel agency (remember those?) for much of the past three decades. Confronted with shag carpet and drab walls, Carlo knew that he had a design emergency. The only thing was that especially after the license application process, he didn't have much of a budget: when he first contacted the design firm MADLAB, he said they all but hung up on him.
A couple of weeks later, however, they did get back to him with a proposal of furniture sourced entirely from the Salvation Army in Newark, NJ. Their plan included painting the furniture white, stacking the pieces in a jumble, and then stripping the walls and floors back to the brick and boards.
The shop stocks exclusively Italian wines and Carlo has laid out the shop by region on the furniture with the northern end of the peninsula near the door and Sicily at the rear. The 200 wines are from small producers and importers. He says the wines range in price from $12 to $184 for a mature Barolo.
Carlo worked in several restaurants growing up, but mostly BYOBs. He ate at Babbo when he was 21 and had such a great experience that he wrote David Lynch, then the wine director, a letter asking if he could work there hauling boxes. Much to Carlo's surprise, he says that Lynch called him back. But seeing his admittedly featherweight wine resume, Lynch sent him to cut his teeth at Lupa first. He bounced around a few places including Italian Wine Merchants, Babbo and Inoteca North and briefly at sales for a wine importer.
At Le Vigne, he said that people in the neighborhood have a pretty good knowledge of wine; it's not uncommon to have someone come in and request a vernaccia nera or something else from off the beaten path. (He attributes this knowledge to the high density of Italian restaurants in the neighborhood.) And people often want to experiment and pair wine with with non-traditional foods, such as watermelon soup, so he has to think creatively. He'll give you a 10% discount for a case purchase and even store it in the back for you to drop in and collect a few bottles as necessary.
Although he still has debts, things are looking up now that the store is actually in business. "Every week gets better," he says.
35 Greenwich Ave
(bet. 10th and Charles Streets)
(212) 255-0222
See it on the map of NYC wine shops