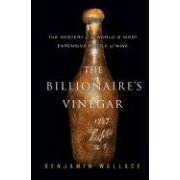 In July, Michael Broadbent brought legal action against Random House, the publisher of The Billionaire's Vinegar: The Mystery Of The World's Most Expensive Bottle Of Wine. News of the settlement broke on Decanter.com, which called it a "victory" for Broadbent.
Author Benjamin Wallace has just sent this public statement to DrVino.com:
This statement is authorized for publication in the U.S. only: It is unfortunate that Michael Broadbent has chosen to blame the messenger, and doubly so that he is blaming the messenger for something the messenger is not actually saying. I have never felt that Mr. Broadbent acted in bad faith, and contrary to his claims, I maintain that The Billionaire's Vinegar does not suggest that he did. In any case, while I believe that my book speaks for itself, I do want to point out a few things: I was never personally sued by Mr. Broadbent, and I am not a party to the settlement or apology negotiated by him with Random House. Because of the U.K.'s notoriously plaintiff-friendly libel laws and conditional fee system, the company made a business decision to settle with Mr. Broadbent in order to contain its legal costs and exposure in the U.K. Since the claim was always confined to the book's availability in the U.K., the settlement does not prevent the book from being published anywhere else or require that a single word be changed. So, while Random House has agreed not to distribute the book in the U.K., the book remains available in the United States, where the libel laws provide greater protection for freedom of speech and where British libel judgments are almost never enforceable, thanks to the First Amendment.