SIPPED: hype
The Telegraph in the UK runs a story with the headline: "2009 Bordeaux vintage 'set to be best in 60 years thanks to perfect weather.'" The 2005s are mad.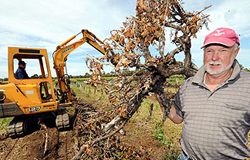 UPROOTED: vines
The crisis in Australia has forced the uprooting of grape vines and vineyards not to be tended to the tune of about 8,000 hectares. One industry observer suggests 20,000 hectares need to come out of production. [Adelaide Now]
SIPPED: seasonal drinking
In a subject near and dear to our hearts, Patrick Comiskey suggests some white wines for fall, ones that are "more zaftig, more mouth-filling." [LA Times]
SIPPED: consolidation
Binny's, a multi-store retailer in Chicago with revenues of $200 million, has agreed to purchase rival Sam's, which had sales of $60 million in 2007 according to the Chicago Tribune.
SIPPED: tasting sized pours
Food and wine festivals remain popular, despite the economic downturn, as more are added every year. Food & Wine magazine, which pioneered the Aspen Food & Wine classic 27 years ago, now runs nine festivals around the country and in the Caribbean. [WSJ]
SIPPED: Bergerac bling
Russian oligarch Eugene Shvidler brings his own stimulus package to Chateau Thenac, in off-the-beaten-path Bergerac. ""Am I a wine aficionado? No. Would I call myself a big specialist? No. My approach was to buy the most expensive equipment and the most expensive consultants." [Guardian]
SPIT: Doctor's orders
Sean Connery, as James Bond, once had instructions on how to serve Dom Perignon '53 (hear audio). Now, diagnosed with a heard condition and told by his doctor not to drink alcohol, he sips (value) red wine on the theory that it is good for his heart. [winespectator.com]
And from food blogs, "Debate Rages: Is the Blogosphere Killing Thoughtful Food Journalism?" [grub street]