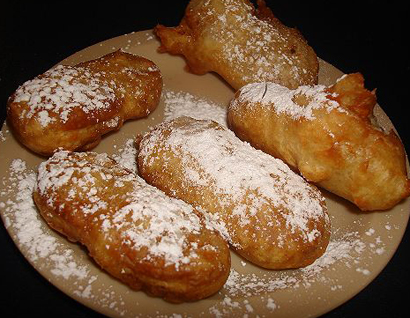 The leaves are falling and the autumnal bounty is hitting our tables. Nothing says fall, apparently, like deep fried butter on a stick.
Or at least at the Winston-Salem, North Carolina fair, where a reporter filed this tasting note from the fairgrounds:
Fried cheese is heaven. Would fried butter be Nirvana? We had to find out…Will fried butter be this year's runaway food sensation of the Dixie Classic Fair? Well, it's novel. It's tasty. But it's no funnel cake, just this year's fad. But it's also hard to top. It's a fluffy, airy pocket of fried batter, basically — the heat of the oil melts most of the butter — sweet and salty at the same time. We felt invigorated. We felt sick.
So what do you say, what goes with deep fried butter–or is it impossible?!? (Sugar, as depicted above, is optional.) And if you think this is hard, at least I didn't challenge you with this week's atrocity, Paula Deen's donut bacon cheeseburger.
If you're looking for more traditional fare, we previously tried our hand at pairing wine with butternut squash soup.