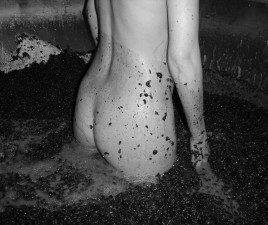 Over at the new blogazine, Palate Press, there's a posting about a pair of women who bare all and then jump in a tank full of warm, fermenting pinot juice, seeds and skins. No, this isn't the recreational sport of tank diving; they did it in the name of "pigeage" or a punch down that keeps the floating bits (known as the "cap") moist. Most wineries do this with a long tool while some use a method of taking juice from the bottom of the tanking pumping it over the top.
Here's the photo that ran with the posting: what's your caption? Try to keep it PG-13 or somewhat safe for work.
If we ingredient labeling on American wines, would they have to add naked woman if they do the traditional pigeage?