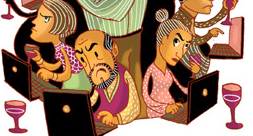 Mike Steinberger posted a synopsis earlier today of the recent policy transgressions, policy changes and general tone deafness at Robert Parker's The Wine Advocate. It advances the discussion since his angle is that the moment of the Internet is now:
But while the online world has clearly changed the way in which wine information is disseminated, the notion that it might fundamentally alter the critic-consumer dynamic was, until recently, mostly a matter of prognostication—everyone agreed it was bound to happen, but at some indeterminate point in the future. What the Parker imbroglio demonstrated is that the future has arrived…

We are moving from a monologue to a dialogue, and this reflects a fundamental truth about wine: It is a matter of taste, and taste differs from one person to the next. There's still a need for expert opinion, but authority is going to have to be worn a lot more lightly going forward, and it isn't going to command quite the deference that it used to.
Check it out. And also be sure to check out, if you haven't already, the lively discussions by the "purged and the disaffected" over on Wine Berserkers!
"We're All Wine Critics Now: How the Internet has democratized drinking." [Slate] (Crop of image from Slate)