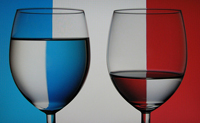 Over on Forbes.com, I just contributed a short piece about the wines of Vouvray. Almost entirely, the wines of Vouvray are from the Chenin Blanc grape and Vouvray is in many ways the apogee of Chenin Blanc. The wines from this 5,000 acre appellation can be very rewarding, as a sparkling wine or dry, off-dry, and sweet. Moreover, the best examples are extremely age-worthy and global warming has made them more accessible in their youth.
My thoughts drifted to regional rival, Suavignon Blanc, which is considered one of the three "noble" white grapes (Riesling and Chardonnay are the others). I've never really cottoned to the whole aristocratic anthropomorphism for grape varieties but if I were drawing it up today, I'd prepare Sauvignon for a defenestration in favor of Chenin. Let's measure it up:
Multiple expressions (sparkling to sweet)? Chenin has the edge
Age-worthy? Chenin
Multiple layers of complexity in the glass? Chenin
The top examples of each? Chenin has the edge
More accessible when young? Sauvignon
More popular? Sauvignon
Ability to be planted more widely? Sauvignon
Have your say in the latest poll! (note: selecting two responses is possible)


Loading ...