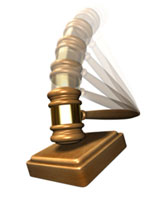 William I. Koch, the billionaire wine collector at the heart of the story The Billionaire's Vinegar (buy on amazon), has taken yet more legal action in the world of fine wine. In an extensive complaint lodged in Los Angeles court last week, Koch makes some significant allegations. The complaint is available here as pdf and it makes for great reading. In the name of fairness and balance, these are simply allegations and it will be interesting to see how it all plays out. Whether or not you are into the fine and collectible wine market, these are fascinating developments as the cast of characters expands beyond those in The Billionaire's Vinegar.
Koch alleges that five bottles he purchased through Acker Merrall & Condit were fake. The bottles were: 1947 Château Pétrus, a bottle of 1945 Comte Georges de Vogüé Musigny Cuvée Vielles Vignes, 1949 Lafleur, and two bottles of 1934 Domaine de la Romanée-Conti. Koch paid Acker $77,925 for the five bottles, purchased through private sales and auctions. He now claims they all came from Kurianwan but that source was not stated at the time of purchase.
Koch maintains that Kurniawan was the source of two Acker auctions in 2006 hailed only as from "THE cellar." The two auctions grossed over $35 million. The complaint points to this LA Times profile of Kurniawan, which describes his preferred wardrobe is jeans and gray tshrits but that he has a Bentely and a Ferrari. The article also says that he got into wine only in the year 2000 but had already amassed a cellar of 50,000 bottles and that, "Since he started buying, prices for rare wine have skyrocketed."
In reference to the two 2006 auctions, the filing says, "Buying and selling the same wine at the same time could also be an effort to manipulate wine prices, a scheme to pump up the price and then dump wine into the inflated market."
Koch's filing also states that Kurniawan owed Acker and Acker clients $10.4 million as of a November 2008 court proceeding. Acker accepted fine art and wine as collateral. Emigrant Bank also lent Kurniawan $3 million, according to the filing, and sued Kurniawan to get it back.
The filing also elaborates on sales of magnums of 1982 Le Pin and 122 bottles of red Burgundy from Domaine Ponsot. However, both sets of wines were withdrawn after winery principals raised doubts about the authenticity of the wines. Jancis Robinson has since called Laurent Ponsot "Burgundy's Sherlock Holmes." But where Kruniawan got those bottles remains unknown.
And to think that the movie rights for The Bilionaire's Vinegar have already been sold! Looks like they'd better get working on the sequel already…