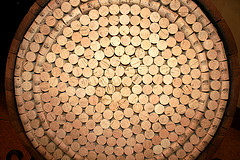 In the classic Bond film, Goldfinger tries to corner the world market for gold. Is Amorim trying to do the same thing for cork?
Already the largest producer of wine bottle corks, ripped from the bark of trees in Portugal, now they want their corks back!
Amorim operates a newish program under the name ReCORK America that claims to keep post-consumer corks out of landfills, a laudable goal. They have already signed up some Whole Foods locations in Northern California and they recently announced the addition of American Airlines Admirals Club lounges. Soon to be heard in taxis everywhere, "Yes, honey, I've got the passports but let's go back and grab the corks and bring them to the lounge!"
Despite language in the press release to the contrary, ReCORK America currently has no specific plans on what to do with the corks they receive other than to store them in a warehouse in Napa, as stated on their web site. Contacted via email to see if their plans had congealed, they only pointed out that their partners pay to ship the corks back to the warehouse.
By contrast, the green building firm in Missouri, Yemm & Hart has collected almost 8,000 pounds (about one million corks) of post consumer corks since 2004. They make them into cork tiles for flooring and are still accepting donations. Let's hope one day they start making cork iPhone cases!
With 13 billion corks pulled from wine bottles every year by Amorim's estimate, there are still a lot of corks headed to landfills. Because corks are a natural product, they can also be shredded and used as mulch in the garden or added to compost as a way to keep them out of landfills. And don't forget cork art!