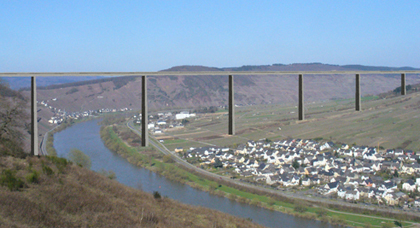 Things are heating up in the Mosel–and it's not just global warming. Mike Steinberger posted on Slate about planned demonstrations last Friday to protest a "four-lane, mile-long highway bridge across the Mosel river, a project that threatens a handful of Germany's most celebrated vineyards." Manfred Prüm, Willi Schaefer, Markus Molitor, and Erni Loosen were to be in attendance, as will wine writers Hugh Johnson and Stuart Pigott. Check out his excellent overview piece.
Decanter has a wrap on the event in which a Green party member decries the bridge as simply stimulus money. Johnson is quoted saying, "Bridges have been built from nowhere to nowhere, but don't let that happen. Don't think that this can't be stopped." And to top it off, the bridge as depicted in the above rendering is an anodyne collection of matchsticks, not even a soaring Calatrava creation!
The bridge would shorten the commute from Belgium and Holland to the Frankfurt-Hahn airport. Opponents of the bridge say it would shave only 30 minutes of the journey. The state of Rheinland-Pfalz seeks to turn the airport into a cargo hub. But it already is a hub for Ryanair, the low-cost carrier that even charges for printing boarding passes, collecting lost and found, and threatens charging for on-board toilets!
If this burns you up, Stuart Pigott, for his part, previously was reported to have supported the burning of a puppet representing the state prime minister of the state of Rheinland-Pfalz, Kurt Beck, in effigy. (Where does one get a good effigy these days?) But if you want to try another, less-combustible approach, you could try writing to the Chancellor. We received a somewhat cheesy sample letter here today, which is reproduced after the jump.
"As a lover of German wine, I beg you to intervene on behalf of the winegrowers of the Mosel and put a stop to the construction in Rheinland-Pfalz of the Mosel High Bridge. This bridge will compromise some of the finest vineyard land in Europe. By allowing this construction to continue, you do a disservice to your nation and to the generations that will follow us."