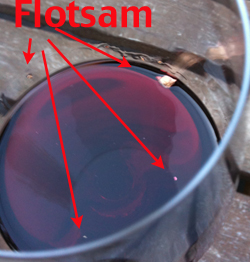 Reader Ben writes in:
Floaters in wine.

How do you get them out? A finger? A spoon? Spit out the first sip? You've had that experience, haven't you, of seeing a host of small floating objects on the surface of a glass of wine, usually just bits of cork, but sometimes strange looking pieces of "dust"… Anyway, I thought it could be kind of a funny little thing. And I am frankly curious as to the best approach!
I just swallow them for extra fiber! Okay, not really. I usually either try to drink around any floaties or swirl/tip the glass to get the bit of cork onto the side of the glass and out of play. What do you do?