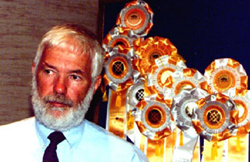 About half of the wines entered into at least three wine competitions bring home a gold medal. But of those winning a gold, 84 percent win no further medal at another competition. Thus, "winning gold medals may be more a matter of chance than a predictor of quality."
Such are the findings from a paper published in the current issue of the Journal of Wine Economics. Robert Hodgson (pictured), the paper's author, is a professor emeritus of oceanography at Humboldt State University. He also co-owns Fieldbrook Winery in Humboldt county, which "normally produces about 1000 cases per year. Though small, the winery has earned distinction by winning many awards in state and national competitions."
In fact, it was his personal experience winning medals and then coming up empty handed that led his quantitative analysis of 13 wine competitions as he told Reuters. The paper says that there are about 29 wine competitions in the United States; for the 13 that he studied, entry fees exceeded $1 million.
Other research has shown that consumers' buying decisions are slightly but positively influenced by medals, which placed sixth out of thirteen variables (ahead of front labels and shelf talkers).
What do you think explains this disparity: something inherent to wine competitions, the nature of blind tasting, or a lack of consensus of quality wine?
Links to abstract and full paper in pdf