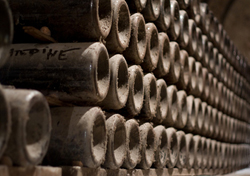 When is a wine cheaper in a restaurant than at a store?
With restaurant markups commonly 300 or 400 percent you could be forgiven for answering, "never." But right now, there's a restaurant in NYC where the head sommelier is clearing out his inventory. Unfortunately, he's already blown through most of the wines that cost him less than $300. But for all (both?) the high rollers out there, the wines that he bought for north of $300 and he has multiple bottles of, he's happy to part with them for as little as $100 above his cost. As silly as it sounds, that means that a wine that costs $750 a bottle in a store might only cost $600 at the restaurant!
Consider another example. The sommelier told me that one patron wanted to spend $900 on the Domaine Romanee Conti, Grands Echezaux, 2005. But the sommelier asked him if he would like a better wine that's drinking better now, the DRC, La Tache, 2006 for $750. The diner readily accepted. Fancy that, a downsell! (is that even a word?)
The price reductions are indicated not on the wine list, however. The somm told me that he gives them mainly to regulars or "people who seem nice." So if you have an anniversary, marriage proposal, big birthday, or other celebratory event coming up no matter which fine restaurant you're in, it might not hurt to indicate your (high) price point and ask if that's the most exciting thing in that vein (cough**cough**price) on the wine list.
Unfortunately, the sommelier requested anonymity since he said that there is no across-the-board policy. But in other NYC deals, Veritas, the wine shrine on 20th St., is offering 25% off all wines on the list. And Bar Boulud is offering a "Pannier du jour," wherein a magnum, jerobaum, imperial or Methusalem is hauled up from the cellar, uncorked and sold by the glass for between $19 and $29 a glass. It may sound like a lot but some recent selections have included the 04 Jadot Bonnes-Mares (3L) and the 1978 Ducru Beaucaillou (mag). Maybe if you get the last glass you could take the bottle home?
At the lower-priced value end, Perry Street, Jojo, and Vong each offers a red and a white bottle of wine for $20 at lunch time as well as a $5 wine by the glass.
Hit the comments with other deals you know about!