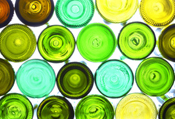 The EPA reports that 28 percent of glass packaging was recycled in America in 2007. If you think that's low, consider the number for wine (and liquor) bottles: 15 percent.
It's a bit of a puzzle why wine (and liquor) bottle recycling rates are so low nationally. While some municipalities require bottle recycling, many more clearly do not. The consumption pattern of wine is amenable to recycling, it would seem, since it's consumed in a dining room or restaurant: Unlike single-serve water or soda bottles, corks are generally pulled only a few paces from a recycling bin.
Hopefully this rate can rise. The NYT reported that in April, House Democrats introduced a proposal to place a five cent deposit on all beverage containers. (If that ever sees the light of day, hopefully unreturned wine bottles will not see the deposit go to the wholesaler rather than the state's coffers.) Even though deposits are small where they exist now, the EPA report indicates recycling rates for glass beer and soft drink bottles are more than twice that of wine (and liquor) bottles at 34 percent.
Meanwhile, wine producers are slimming the weight of their bottles. Jancis Robinson once posted a "name and shame" list of heavy bottles. But now the pendulum is starting to swing the other way, if somewhat slowly compared to other drinks. Overseas, Torres is slimming their bottles. Fetzer Vineyards, one of the largest American winemakers, has announced 16 percent lighter bottles. Why? Not only are lighter bottles cheaper for the producer to buy, but the lower mass means lower carbon dioxide emissions during transportation.
On a related note, longtime readers might be interested to note that the paper that I co-authored on the carbon footprint of wine has been published in the current issue of the Journal of Wine Research.