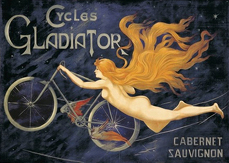 Alabama's liquor authority has banned a label depicting a nude nymph (side view!) from a 1895 poster. The wine, Cycles Gladiator, made by Soledad, California-based Hahn, retails for about $10 and had sold about 600,000 cases since 2006. Although it is available in the other 49 states, Alabama regulations prohibit labels with "a person posed in an immoral or sensuous manner," according to NBC Los Angeles. (Search for Cycles Gladiator at retail)
Since when is nude bicycle flying considered immoral or sensuous? Imprudent and unsafe would be more like it. If the nymph were in today's Tour de France, she would at least be required to have a helmet!
In other important wine and cycling news, after the grueling day up Le Mont Ventoux, Lance Armstrong tweeted: ""went to dinner with the RadioShack guys [his new team]…had a few more glasses of wine than I normally would." And after the tour he posted a pic enjoying a (large) glass of wine with cycling legend Eddie Merckx. The man clearly enjoys wine, so how long until we see an Armstrong celebrity wine? If it ever arrives, he will, no doubt, be fully clothed.