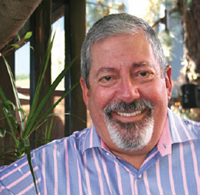 Anthony Dias Blue published an editorial in the July issue of his print publication, The Tasting Panel entitled, "…And Who Regulates the Bloggers?" In it, he calls me–without naming me specifically–a "barbarian blogger." He further suggests that I "cast aspersions" at Robert Parker and his staff in my two posts from April and uses the word "allegedly" to describe the trips taken by contributors at The Wine Advocate. Then he pivots to lash out at bloggers more generally. You can read the whole piece here, but here is one excerpt:
And who are these bloggers anyway and, more important, what is their motivation? It would be comforting to find that they are altruistic wine lovers who see their purpose as bringing insight and valuable information to like-minded consumers. But the image that presents itself is of bitter, carping gadflies who, as they stare into their computer screens and contemplate their dreary day jobs, let their resentment and sense of personal failure take shape as vicious attacks on the established critical media.

I'm sure this is a condition that could be quickly remedied by the appearance at their door of the FedEx man bearing multiple new release samples.
Here's a copy of the letter I sent to Mr. Dias Blue via email.
Mr. Dias Blue,

I saw your editorial in the July issue of your magazine, The Tasting Panel.

As the "blogger barbarian" who asked the questions of Robert Parker and Jay Miller, I thought I should clarify a few things for you.

Your use of "allegedly" significantly underplays the reality of press trips at The Wine Advocate. Squires by his own admission took a press trip to Israel and later divulged that he has taken five such trips to Portugal and Greece. Miller refused to provide a substantive reply to my specific questions about his travel to Argentina. A few phone calls and emails later, I triple verified that he had been to Argentina on two trips, paid for and organized by Wines of Argentina. The head of Wine Australia USA later told the Wall Street Journal that they had paid for and organized Miller's trip to Australia. He put the price tag on that trip at $25,000.

Robert Parker built his reputation on independence. A key part of that independence involved distance from the trade and accepting no freebies. There had been a divergence between the actions of contributors to the publication and the stated policy.

And just to underscore the importance of this issue, I was not the only one asking questions since the Wall Street Journal also ran a story on the issue.

On my blog I have a statement of ethics. Do you have one in The Tasting Panel magazine?

I notice that part of Blue Lifestyle includes the organization of many promotional events for the wine trade and press. Further, I have personally received invitations from Blue Lifestyle for events with wine producers of Brunello, Walla Walla, Vintage port 2007, Wines of Navarra and E&J Gallo. How do you reconcile your promotional work with your editorial work?

Also, how do you reconcile the ads for 13 spirits brands in the current issue and the ads for eight wine brands with the independence of the editorial? Indeed, two of those advertisers also received editorial coverage in the same issue.

Mr. Dias Blue, I did not "cast aspersions" about Robert Parker and Jay Miller as you suggest. I asked them questions and when their replies were not forthcoming, I found out the answers and then gave them a chance to respond. That is called journalism. And as I stated in the pieces, I have tremendous respect for what Mr. Parker has achieved.

The invective that you present in your editorial, by contrast, pays scant regard for the facts and uses charged rhetoric to cast many aspersions writ large about wine bloggers. How do you expect to earn the respect of your readers by presenting such an unbalanced, overheated view? Instead, it sounds precisely like the form of writing that you decry.

Sincerely,

Tyler Colman, Ph.D.
www.DrVino.com
* * * *
After the jump, details about his pay-for-editorial "exposure package," a further point about bloggers, and a reply from Anthony Dias Blue.
Since sending the letter, I became aware of how there was crossover between the editorial and advertisement: in The Tasting Panel media kit, there is the option of advertisers buying an "exposure package."
MONTHLY "EXPOSURE PACKAGE" SPECIALS
• Full Page Ad in THE TASTING PANEL Magazine
• Feature Story in magazine
• 30 minute radio show sponsorship of "Happy Hour" Show KFWB 980 AM
(includes on-air interview, orpportunity [sic] to showcase brand)
• Price $13,500/month
PREMIUM PACKAGE
• Full Page Ad in THE TASTING PANEL Magazine
• Feature Story in magazine
• 45 minute radio show sponsorship of "Happy Hour" Show KFWB 980 AM
(includes on-air interview, opportunity to showcase brand)
• Price $8,000/month
Mr. Dias Blue makes a point about wine blogs being unregulated but the same could be said of wine criticism and wine writing more generally. Blogging is fun, interactive and the diverse participants often bring tremendous passion. In many cases, they have specific knowledge. I'm sure that Mr. Dias Blue came across Franco Zilliani's excellent blogging on the Brunello scandal of last year, for example. Painting with a broad brush when it comes to wine (or for anything) is almost always a bad idea. Do all the wines of Walla Walla or Navarra suck, for example? Of course not! So why should all bloggers be characterized as "barbarians" or "militants"? In fact, over at the blog for Domain 547, there's a post up entitled "These Wine Bloggers Are…" with biographical information about some of the people behind wine blogs.
* * * *
Anthony Dias Blue just responded. I reproduce his email below.
Dear Mr. Colman,

Thank you for your temperate email (I have received some communications from bloggers that have not been quite so non-violent).

You pose a number of issues and I will try to respond as best I can. Let's start with the ethics statement: no, we do not have an ethics statement in the magazine (except for the clarification at the beginning of the review section) but looking at your ethics statement, I don't see that we substantially deviate from it. Like you, we have an outside company that sells our advertising (Huson in San Francisco). I notice that you are running an ad (via Google) for Mankas Springs Vineyards. What if a bottle of Mankas Springs wine happened to slip into your blind tasting and you liked it very much? Should one automatically assume there is some impropriety involved if you reported favorably about it? No, because you have established yourself as a serious journalist with a track record of balanced reporting. Would it not, in fact, be unfair if you were to omit a favorable rating because they are an advertiser? If we have eight wine ads in our magazine it's only an indication that our ad sales people are more effective than yours. Frankly, I couldn't tell you who the advertisers are. I have been employed for more than thirty years by CBS who require adherence to a long and detailed ethics statement (prompted by the payola scandal of the 1960s). I also worked for Condé Nast for 25 years.

I am impressed that you pay for "the vast majority" of the wines you write about. If you taste 1000 wines each year, then you must be paying for 750 of them. That would mean that you are spending in the neighborhood of $20,000 on samples not to mention your grocery bills. I envy your financial independence. I taste about 7,000 wines a year. That would bring my sample bill to well over $100,000. I think I prefer tipping the UPS and FedEx guys generously.

As for the trade events, that part of the business is the province of Allison Levine whom I think you met when you were on a press trip together. I have no input as to whose events we do.

Response to the editor letter you cite has been running five to one in favor. Clearly bloggers need to repair their image. As one of the more literate members of the group, perhaps you could establish some framework or authority that could separate the serious bloggers from the pajama-clad wannabes.

Thank you again for your email.

Regards,

I would be curious how he reconciles the "exposure package" with the ethical standards of CBS Radio (KFWB 980 AM)? Perhaps he will elaborate in the comments here.
Also, since Mr. Dias Blue brings up his employee, Allison Levine, it is worth pointing out that her title is "Vice President, Marketing and Events, Blue Lifestyle and The Tasting Panel Magazine." Both she and Mr. Dias Blue list the same business address in Pacific Palisades, CA in the signature section of their emails.
His unrepentant email still "casts aspersions" on bloggers of all stripes. Is he not throwing stones from his glass house in Pacific Palisades?