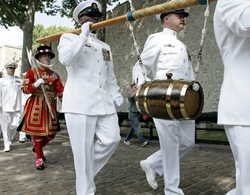 SIPPED: raging keggerThe crew of a US Navy frigate "made history" by delivering wine to the Tower of London! Yes, check out the size of that barrel in the reduced sized crop of the AP photo to the right! The ship was the first foreign ship to participate in ceremonial festivities wherein all passing ships must render some cargo for protection from the Constable. The crew had the option of giving rum, oysters, mussels, cockles or rushes but opted for the wine instead. But which wine was it? [AP]
SPIT: wine and coke
Bulgarian authorities found bottles of Bolivian wine (yes, it exists!) to contain massive amounts of liquid cocaine! According to Decanter.com, all but 68 of 1,020 bottles of Bodegas Kohlberg wine were found to be liquid cocaine. Wow, that would have been a shocker to open one of those from your local store! More evidence that mixing wine and coke is never a good idea…
SIPPED: Department of What The…
Decanter also reports that a winery in Brazil (yes, there are some!) will be making its first ice wine. The Perico Winery is making the wine for export in 2010 from a vineyard 1,300 meters (4,265 ft) above sea level.
SIPPED: Grande Pinot
Starbucks is going local. In a store rolling out this week in Seattle, the chain will be trying out a "coffeehouse" format, eschewing the 'Bucks name and logo. According to a story in the Seattle Times that includes tales of their local snooping, the location "will serve wine and beer, host live music and poetry readings and sell espresso from a manual machine." But will they have grande nonfat Pinot?