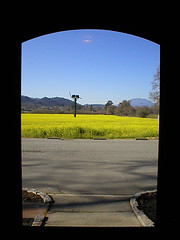 Today's Wall Street Journal has a piece on the luxury wine market that's either sobering or heartwarming. If you're in a producer, it's probably sobering to read more about the sluggish sales, depressed prices for wines, the prospect of lost pricing power in the future, and possibility of increased merger and acquisition activity. But if you're a consumer who is into high-end wines, it's heartwarming to have the possibility to scoop up bargains, as one wine consumer does in the story.
The article suggests that "some of the newer operations [wineries] are using new marketing techniques to cope." A case study:
Alpha Omega, a boutique winery in Rutherford, Calif., has begun using online services Facebook and Twitter to reach out to its customers. The winery three years ago began targeting consumers directly, and the strategy is now paying off; revenue is up 40% so far this year, compared with a year ago, in part because it doesn't have to share many revenues with a distributor, says co-owner Robin Baggett.
Call me a skeptic, but I fail to see how the winery's 296 friends on Facebook, 407 followers on Twitter and no blog can really help them move their wines (even if one of their tweets had a Palin-esque all caps consisting simply of "I love WINE.") Their range of wines, crafted by winemakers Jean Hoefliger and Michel Rolland, starts with a $28 rosé and moves up to a $480 three-pack of reds in a wooden case. The WSJ article states that wines north of $25 are experiencing "a sharp falloff" so there must be some other secret sauce at Alpha Omega.
If it's selling directly to consumers and bypassing distributors, then great. But I would imagine in this case that the 20% discount to club members speaks more loudly than their tweets.
Can social media really save the day for wineries? A story making the rounds these days is that the internet devalues everything it touches. But if both luxury and non-luxury wineries can somehow make social media work to increase their profitability while lowering prices to consumers, then that would be a heartwarming tale for all.