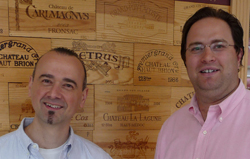 What does a 62 point wine taste like? Not that I follow scores for wine very much, but a 62 pointer? Man, that had to suck. Or, conversely, if you disagree with the critic giving the score, perhaps it was fantastic?
Daniel Posner (above, right), owner of the wine store Grapes The Wine Company, drew this review to my attention. The wine in question was the flagship Viu 1 from Viu Manent, a 75 year old winery in Chile. Writing in the Wine Advocate, Jay Miller had dropped the 62 on the 2006 while previous two vintages of Viu 1 scored 92 and 92+ respectively (about $60; find these wines).
So I dropped a line to Viu Manent through their web site and heard back from Jose Miguel Viu, managing director. He wrote: "We are in the process of evaluating the reasons why our wines were so poorly evaluated because, as you noticed, this is very unusual and was further aggravated by the fact that for the first time Wine Advocate decided to publish scores under 85 points…This is not to mention the excellent reception we have always had on other important publications. Viu 1 2006, for instance, became Wine Enthusiast Editor's choice with 92 points on July's 09 issue."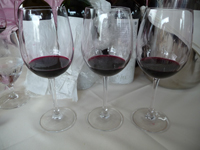 A couple of more emails with Senor Viu established that Miller had tasted the wines at an event in Santiago organized by the Wines of Chile (see photos and a description of the tasting in a piece entitled "Jay Miller: Looking for Pleasure"). Further, Grant Phelps, the Viu Manent winemaker, said that the Viu 1 was "identical in almost every respect" to the 2003, 2004 and 2005, three vintages that he also made. Finally, Senor Viu offered to send me samples of the wines directly from the winery. I accepted.
But I didn't want to taste them alone so I proposed to Daniel Posner that we could taste them together at his handsome new shop in North White Plains, NY. He then decided to invite his bitter Westchester rival, Max Marinucci (photo at the top; left) who owns the also handsome Wine Connection in Pound Ridge, NY, and one of his customers, Mark Franks, for lunch. It was very good to meet them both for the first time.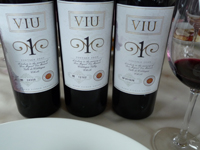 We settled into a booth and after a warm up tasting of some Spanish wines (described below) and moved into the Viu 1 vertical. Unfortunately I knew which wine was which but I concealed the identity of the wines from the others. From the heavy, bodybuilder bottle, I poured the opaque, purple/black wine in the glasses.
One person commented, "I'd give them all 62." He followed up by saying that they are big wines that could be from anywhere and were broadly similar. But there was general agreement that the first wine tasted the best and that the last wine tasted different, more extracted, more dense, and bigger. "The wine that Miller would have liked the most," as one taster put it.
But it turned out that was the 62 pointer, the 2006. Was it inferior? Sure. But 30 points worse, putting it in the realm of "a below average wine containing noticeable deficiencies, such as excessive acidity and/or tannin, an absence of flavor, or possibly dirty aromas or flavors"? Not to any of us.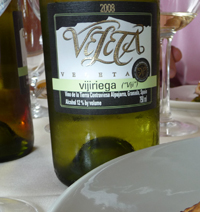 As to the Spanish wine, Daniel had corresponded with Nola Palomar, a small producer of Spanish wines based in Andalusia. She had stated that she had trouble having the wines reviewed by the Wine Advocate despite being reviewed by Stephen Tanzer. Of the six wines, the 2008 Veleta Vijirieja stood out as a zippy summer sipper and the 2006 Veleta Noladas, a blend of cabernet sauvignon, cabernet franc, and tempranillo had some interesting complexity; both were good values at under $15. Certainly more than 62 points!
Then we finished our lunch with a 1976 Lopez de Heredia Bosconia and a 1996 Ponsot, Clos de la Roche, split the bill, and headed out.