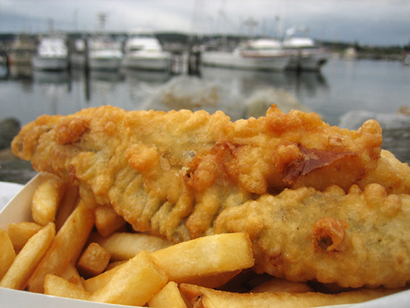 I recently had the excellent fish and chips at Doyle's in Sydney. Unfortunately, I wolfed it down before snapping a pic but I found another similar one on flickr.
We haven't done one of these "impossible" pairings for a while. What with such nontraditional calorie bombs as the bacon explosion and the oreo tower under our proverbial belts already, perhaps we should ease back into this theme with something a little, er, lighter (albeit not by much) or at least more conventional.
So have at it: which wine would you pair with fish and chips? Or is it…impossible?!?