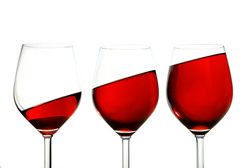 SIPPED and SPIT: rosé! Controversy continues to swirl around the proposed changes in the EU to allow blending rather than bleeding. We're talking rosé, of course, which has traditionally been bled off red grapes but may soon be allowed to have the lower cost method of red being blended with white. Francois Millo, head of the Provence vintners' association, brings this intra-European fight to the pages of the NYT with an op-ed arguing that their local "achievement should not be drowned in a flood of cheap imitations." AFP previously reported that France, Italy, Spain and Switzerland are opposed to the practice. But Decanter reported that José Bové, in full EU electoral mode, has called the French agricultural minister a liar, saying that he failed to vote against the reform as a part of a broader package in January.
UPDATE: The European Agricultural Commissioner, Mariann Fischer Boel, has withdrawn the rose reform. [Guardian]
SWIRLED: wine tax increase
The Senate finance committee considers raising the federal excise tax on wine (and beer)–and introducing a tax on other beverages, such as soda–in the name of funding health reform. The last increase in the federal excise tax on wine was 1991, when it was increased to $1.07 a gallon for still wine under 14% alcohol. Prior to that, the rate had been stable since 1951 at $0.17 a gallon.
SPIT and SIPPED: New Vine Logistics
New Vine Logistics, a Napa-based company that provides order fulfillment to 200 wineries and may have been involved in the back end of Amazon wine, startlingly ceased operations a week ago. But faster than you could say "Chrysler," it found an apparent savior in Inertia Beverage Group. Follow the action over at wineindustryinsight.com.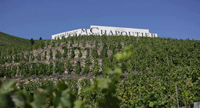 SPIT: signs as a threat to the environment
The steep hillside vineyards of Hermitage may be preserved under an environmental heritage act. Such an action could jeopardize the signs of Chapoutier and Jaboulet on those hillsides ("one of the region's most beloved landmarks" according to the Chapoutier web site), which may have to be removed as a result.