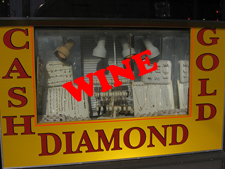 SPIT: wine in France!
Over the past year, as the economy has been grinding down, some Parisians have decided to cash out of wine by pawning their wines to the Credit Municipal, who, in turn, just auctioned off 2,500 bottles. [AP]
SIPPED: wine the beverage
"Red wine patches? No thanks, I'll take mine orally," quips Mark Fisher about a resveratrol ad he saw in his Sunday paper. He continues, "What's next? A suppository?" Hey-oh! [Uncorked]
SIPPED: haggling!
The NY Post delights in the fact that the recession brings the end of water sommeliers. And they point out that negotiating with the (wine) sommelier is now not only acceptable but encouraged at David Burke's restaurants: diners are given a list of "auction selections" where they can bid. The sommelier has "never been insulted" by an opening bid.
SIPPED: change at the Times dining section
Come August, Frank Bruni will be pushing back from the restaurant reviewing table at the New York Times and heading over to the Magazine. [Diner's Journal]
SIPPED: the printed word
I'll be signing copies of my book, A Year of Wine: Perfect Pairings, Great Buys, and What to Sip for Each Season, this Saturday in New Canaan, CT. Although the event is in conjunction with Elm Street Books, it will be at a new wine store called The Respected Palate @ 21 South Ave., New Canaan, CT 06840. 12 – 2:30. And, yes, there will be free wines available to taste!