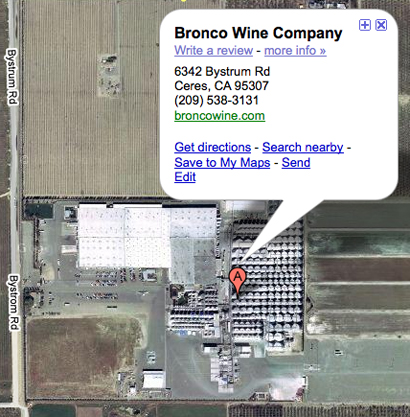 Fred Franzia, creator of Two Buck Chuck and founder of Bronco Wine Co, has a somewhat laudable if self-serving goal: no wine should sell for over ten dollars a bottle. While tasty wine under $10 is something wine consumers could rally behind even in the best of times, the recession certainly makes value have greater appeal now. The only trouble with Franzia's wine is the that they just aren't that tasty.
The current issue of the New Yorker has a lengthy profile of Franzia that is well worth reading, especially if you're not familiar with his story. Here's how the author describes his winery in Ceres, California:
It also irritates Franzia when people describe Bronco's facility, with its four hundred and fifty-two stainless-steel storage tanks–including six liquid oxygen tanks that once held fuel for intercontinental ballistic missiles and are now being used to make champagne [sic]–as being reminiscent of an oil refinery.
(In addition to the satellite image above, click here for a street view of the flags. Franzia had this to say about the flags in the story: "No California flag–they've screwed us too many times. We shouldn't fly the US flag, the bastards. They have a felony on us.")
One of the biggest puzzles about the American wine market is why there are so few tasty values made in the USA. Imports, somewhat paradoxically, offer better value despite traveling a farther distance and often having to pass through another tier, the American importer.
What do you think are the key reasons that American wines under $10 are so often uninspiring? (Granted, there certainly are uninspiring imports under $10 but there are also some rustic wonders that sell for three to six euros in Europe.) Here are some variables to toy with: short-ish history of American wine with relatively few small growers, recent industry consolidation, the soil and/or climate, high land prices, producer greed/pride, the three tier distribution system, or the consumer as chump.
Swirl. Spit. Discuss. And while you're at it, let us know your favorite American wines under $10–or even cast the net wider to include wines under $15 if under $10 is too hard. Maybe in a future post we'll do a low-cost throwdown, domestic versus imports.