SPIT and SIPPED: Bordeaux 2008
After better-than-expected but still largely tepid reviews, Bordeaux 2008 took a shot in the arm form Robert Parker who raved about it. All the action is summed up nicely, with charts of price action, on FT.com's Alphaville blog. Quotage from Simon Staples, aka BigSiTheWineGuy and a buyer at Berry Bros and Rudd in London: "He [Parker] went crazy about 2003 (all on his own) He missed 2005 (everyone else loved it) He's now potty about 08(a few very nice wines)Plot?Lost?"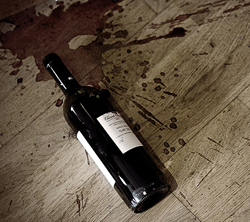 SIPPED: wine growing
Wine in London, yes. But vines? Apparently so. But a terroir de double decker diesel may be avoided: Decanter reports that a horticultural college about 10 miles north of St. Paul's has planted 1,500 vines.
SPIT: red wine stains
A South African winery blog posts with the results of their tests on various red wine stain removers. The winner: hydrogen peroxide! It's a cost-effective result considering hydrogen peroxide costs something like 99 cents a gallon at Duane Reade. [ht: Tasting Room]
SIPPED: plastique
Wolf Blass, an Australian producer, announced two new wines in plastic (PET) bottles that resemble a traditional glass bottle.
SIPPED: fighting garden thievery
The BBC reports that Hugh Johnson, renowned wine writer and avid gardener, had "a late 17th Century astronomical sphere and urns [stolen] from his historic garden." He has posted a £1,000 reward for information leading to the return of the items.