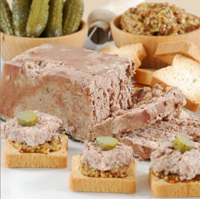 According to a study, it's hard to distinguish pâté from dog food when served blind.
Robin Goldstein, author of The Wine Trials and chef/owner of a fake, Wine Spectator award-winning restaurant, is the lead author on the working paper from the American Association of Wine Economists.
The researchers served pureed Newman's Own dog food alongside duck-liver mousse, pork-liver pâté, puréed liverwurst, and Spam. Of the 18 volunteers (who are these people?), only three could correctly identify the dog food.
So the question on the minds of wine lovers–and dogs–everywhere is: which wine pairs with dog food? A Sauternes? Late-harvest Gewurztraminer? Or is it…impossible?