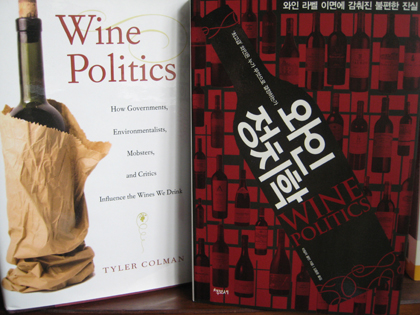 Yesterday, the UPS man dropped off a box of books in Korean. I was amazed. Not so much at the fact that I got a stack of books in Korean. But the books had my name on the front–or so I understand.
It was only November when I first heard about the Korean edition of my book, Wine Politics: How Governments, Environmentalists, Mobsters, and Critics Influence the Wines We Drink. And now it has been printed–and with a better cover, I might add. Wow, that was fast.
In news about my other book, A Year of Wine: Perfect Pairings, Great Buys, and What to Sip for Each Season, we have blog reviews!
Jeff at goodgrape.com writes: "It has ascended to the top of my intro. guide favorites list…Not only is his crystalline writers voice clear, concise and accessible, but he's truly done something inventive with the introductory wine guide genre by interspersing his wisdom very suitably within the context of the calendar."
Cathy Huyghe writes: "…this book makes wine fun. Relevant. Not stodgy. Easy reading. And by the end of it – or by the end of the month if you prefer – you'll have learned something new. When it comes to books on wine, you cannot ask for anything more."
Vinography posts Tim Patterson's review of Wine Politics: "Dr. Vino knows his stuff–and rest assured, the writing is clean, clear and lively, not the least pedantic, and in no way requiring an advanced degree in econometrics."
And, finally, you can check out a video Q&A with me done by the good folks at Organic Wine Journal. They also have some other vids there about cow horns with Mike Benziger or how to spit with Lyle Fass so you might just click away from mine to surf around their site.