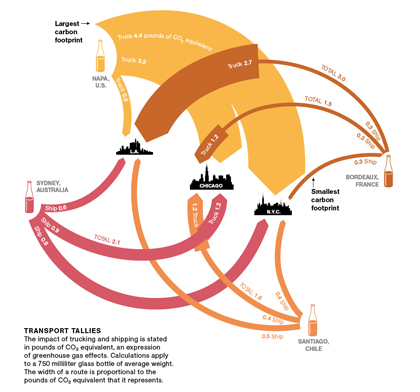 National Geographic has produced an excellent graphic in the May issue about wine's carbon footprint (unfortunately, no link is yet available but the magazine is arriving in mailboxes and newsstands now). Pablo Paster and I provided the numbers for them based on our joint research on the subject.
We previously discussed the "green line" for wine and how it is more carbon efficient for a New Yorker to raise a glass of Bordeaux rather than a glass of California wine. Well, New Yorkers can now also raise a glass of Australian wine to achieve the same result: holding production method and bottle weight constant, the efficiencies of container shipping from a CO2e standpoint are such that a bottle of wine from Sydney arriving in New York City has a less than a quarter of the carbon emissions as one from California, which had a long journey by less efficient truck. The efficiencies even stretch to Chicago, assuming the bottle went through the Panama Canal to New Jersey and then had the shorter truck journey.
Astute readers will note that this finding was not in our original working paper. This updated version reflects the correction of a typo in one of our source materials (a reader of this site actually tipped us off to that), which, when corrected, made the efficiency of shipping even greater.