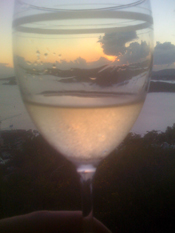 I'm in an undisclosed location where rum is cheaper than Yellow Tail.
We have the good fortune of being on a family vacation in the tropics. But what's a wine lover to drink?
If you've read my book, A Year of Wine, you'll know that I'm a fan of pairing wine with context, which includes the food, the mood, and the people. So if you're on sun-drenched vacation, it's easy to insert any wine, be it fetid or feted, and you're bound for a great time since the setting is ideal, right? Perhaps. But this trip, I brought my own to make sure we had a good pairing.
Seeing some space in one of our bags, I threw in three wines from the Loire: two bottles of Muscadet and a bottle of Gamay. Low in alcohol, with refreshing acidity, and all under $15, I thought they would do the trick nicely when we grew tired of umbrella drinks and beer. (You can tell I am a wine geek since I was probably the only one bringing alcohol to the islands as opposed to returning with bottles–although I don't rule that out.) I put them in a three-bottle wine shipper and they were still refreshingly cool to the touch when I unpacked. So I kept them that way by putting them all in the fridge on arrival.
The real stand out was the Domaine de la Pepiere, Clos des Briords, 2007 (about $15; find this wine), a superb wine in its own right that I've mentioned before. Throw in a sunset, 80 degrees, grilled fish, family and you really have a perfect wine moment. I rate it 100 points.
What's one of your 100 point wine moments?