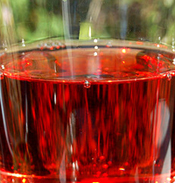 SIPPED: Rosé
Rosé wine is popular the world over. But in Britain sales of the pink drink have been particularly strong, increasing 64% between 2003 – 2007 according to the BBC. To the victor go the spoils: rosé now joins rotisserie chicken and DVDs ordered on the internet in the country's "basket of goods," a measure of inflation. To make room in the index, the Office of National Statistics removed box wine from their figures. But that may be premature, as I told the Financial Times last week, since box wine is not only growing in popularity and quality but might be a better fit with the times.
SPIT: Rosé
"A Rosé by Any Other Name Is Not a Rosé," runs the headline on this AP story. True dat. According to an EU proposal floated last week, the lower-cost method of blending red and white wines to make rosé may soon be allowed alongside the traditional method of "bleeding" rosé off of red grapes. Furor ensues and the method of making the rosé will appear on the label if approved in a May vote.

SIPPED: sanity in restaurant wine prices
A "hot, newish" restaurant in San Francisco may soon roll out wine at retail prices. That's a fantastic idea and one that would likely fill up many a seat in the restaurant. Key question: do they allow doggy boxes? [Spume]
SIPPED: economic indicators
Forbes, known for their lists of billionaires, ran features on 10 wines under $10 AND box wines last week. What has the world of bling come to?
SIPPED: China
Domaines Barons de Rothschild, maker of the Bordeaux first growth Lafite, has announced they will be developing a 60 acre vineyard in China, specifically the peninsula of Penglai, Shandong province.
SIPPED: yet another celebrity wine
Antonio Banderas buys a stake in a winery in Spain's Ribera del Duero. It will be renamed "Puss in Boots" after his role in Shrek. Oh no, scratch that–it will be called Anta Banderas.