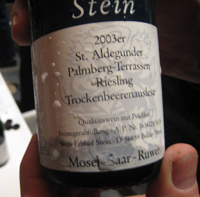 Ulli Stein has made a forbidden wine for decades. The Mosel winemaker still makes the wine, but it's now allowed by law. In fact, he's the only person in Germany with the right to make it.
The wine in question is a so-called vin de paille, or straw wine, made in miniature quantities. This sweet wine has its origins in the Jura, the Alpine region of France, and gets its name from the straw mats that the grapes are dried upon for months after harvest and before a long fermentation (Stein said his takes 12 months). Germany has many sweet wines, of course, but the sweetest wine of all, the Trockenbeerenauslese, gets its sweetness from the distinctive botrytis rot.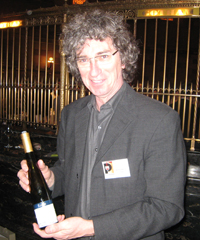 The lanky, hirsute Stein told me yesterday that covertly made his vin de paille for decades and labeled it as a Trockenbeerenauslese, as you can see in the picture. But he wanted to make it legally and brought the issue to a German judge, who turned down his request based on the 1971 German wine law, which claimed that grapes in the vin de paille were not fresh enough. Stein appealed. The next court turned him down. Eventually he appealed to the European courts and won the right to make vin de paille from the 2007 vintage. He added the court granted him the exclusive right in Germany to make vin de paille.
The 2003 that I tasted is a lovely, rich dessert wine. If I were a judge, I wouldn't ban it.
As to the other Rieslings in his portfolio, they are all very good and interesting. But the standout for me was the Stein Bremmer Calmont Riesling Spatlese Trocken 2007. The delicate, slight sweetness (7.5 grams of residual sugar–all natural) embraces a vital core of acidity and minerality. Very nice.