Here's a trio of French reds under $20 (plus a bonus) for your weekend pleasure.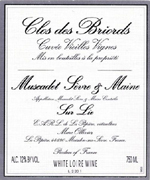 Domaine de la Pepiere, Clos de Briords, 2007 (about $16, find this wine)
Over the past few years, I've alternated my Muscadet attention between Luneau Papin and Marc Ollivier of Domaine de la Pepiere. While both are terrific values and great wines, I'd ultimately have to side with Pepiere. And if anything pushed me over the edge, it's this superb bottling of 2007 Clos de Briords. I poured it for my NYU class and it won plaudits from people who had never even had a Muscadet. It's a little richer and fuller than the normal bottling from Pepiere but still has that great minerally verve with a touch of briney character that goes so well with seafood. I bet this one is built to last too.
Moueix, Merlot encore, 2005 (about $13, find this wine)
Most straight-up Merlot under $20 has about as much appeal as Muzak. But if there's anyone who could bring an interesting, value Merlot to the market, it's Christian Moueix who, among other wines in his portfolio, presides over the acclaimed and supremely expensive Chateau Petrus. If I could only find my blasted tasting notes for you I could have something more specific to say but the wine, as I recall, had some nice dark fruit character with some underlying minerality and acidity that are so lacking in lower-priced (and, too often, higher priced) versions of the grape from the New World. Moueix buys from a few dozen growers, mostly from St. Emilion and the farther flung appellations of the Cotes de Castillon. If they could pour this at art gallery openings, sales might rise!
JL Chave, Mon Coeur, Cotes du Rhone, 2006. (about $19; find this wine)
I suppose I could have recommended this "mon coeur" for Valentine's Day but it's much more, um, original to recommend it on March 13! A fuller bodied red from a top producer in the Northern Rhone, it is plush with dark fruits and dried herbs. Good for days when March is coming in like a lion but you are eating lamb.

Charles Hours, Clos Uroulat, Jurancon, 2006 (about $35; find this wine)
Aha! This wine is not really under $20. But my friend Mike and I went in on this one as our contribution to a recent wine dinner where we weren't supposed to bring anything. So that made my contribution under $20. I was happy to take some credit since the wine was widely praised among the many hard-core wine geeks. Made from Petit Manseng (how many times can you trot that out?), the wine has wonderful aromas of white flowers and golden apples and honey; it's rich but with wonderful texture as well as acidity so it really feels light and refreshing as opposed to a thicker Sauternes. A great way to finish a meal. Find a friend and make it under $20 for you.