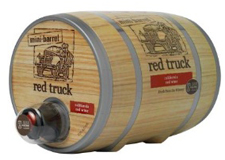 Red Truck, a high volume brand from California, has decided to roll out the barrel. Their new three liter bag-in-barrel wine will appear this month at Sam's Clubs across the country. Their press release claims that this packaging is "convenient, eye-catching and environmentally-friendly…[and] a terrific wine value." Let's check the truthiness of these claims.
Convenient? Sure, it probably keeps the wine fresh for a month with the bladder and spigot.
Eye-catching? Yes, it looks better than a box, at least from the photos. Maybe in person it is nasty, plastic-y looking but for now, yes, eye-catching.
Environmentally friendly? [NOTE: because the Red Truck press representative misunderstood my query about the weight of the packaging, this portion has had to be altered.] In my joint research into the carbon footprint of wine, we found that lighter packaging can greatly reduce the overall carbon footprint of wine. This barrel puts 3,000g of wine in 250g of packaging, so it vastly improves the wine-to-packaging ratio over bottles. (The PR person had previously told me the weight of the whole barrel, full of wine, was the weight of the packaging alone. So even though I had to redo this part, she buttered me up by saying that my NYT op-ed had inspired their their 3L package.)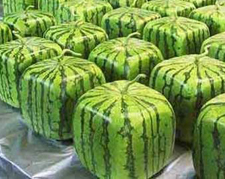 But the cylindrical casing still leaves more dead air in the truck so it's not quite as efficient as the rectangular box. (That's why watermelons are square, right?) The packaging is all #5 plastic, which some municipalities may recycle. The plastic bladder is #7.
Value? At $29.99, it's the equivalent of $7.50 per bottle. Although it can be found for $6.99 a bottle, many retailers appear to have it for $8.99 a bottle. So, yes, some savings. But you should probably experiment with a bottle of it first to see if you like it.