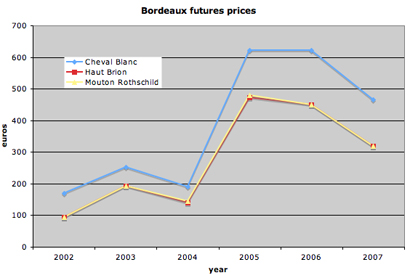 SPIT: Bordeaux futures
In recent years, Bordeaux futures ran up to tremendous highs (see above chart above for three top chateaus ex-cellars; compiled from data from The Times of London). Now, they may be poised to fall back to 2002 prices, which is what British buyers told the Times they were willing to pay. A Bordeaux insider told me recently that the first growths really should not cross the €100 threshold. But he admitted that they probably will after they hear nice things about their wines at the en primeurs tastings in early April.
SIPPED: Bordeaux past
In a blast from what seems a distant past, a new investment fund for wine is opens this month with allegedly 15 to 20 million pounds of assets. Investors will need to meet the 500,000 pound minimum for the closed-end fund. Send checks to Richmond Park partners Steven Berger and Pascal Maeter who will manage the Lunzer Wine Investments Institutional Fund. [Bloomberg]
SIPPED: industrial waste over Givry
The Burgundy village of Givry has to contend with plans for a new industrial waste treatment plant on the outskirts of town. Last year's mayoral campaign was fought largely around this issue with an anti-plant activist winning town hall. But the regional authorities later approved the plant, winemakers sued, and now a tribunal has suspended the approval. Score one for the winemakers! Check out the story at washingtonpost.com.
SPIT: excise tax
California's legislature approved a new budget without increasing the excise tax on wine.
SIPPED and SPIT: wine blogs
The wine blog award winners have been announced. Alas, this blog is not among them. But thank you for your clicks of support! And hearty congratulations to the winners! [Fermentation]
SIPPED: insurance!
A "Master of Coffee" (not Mister Coffee) in England has insured his tongue for £10 million ($13.95 million) via Lloyd's of London (not to be confused with the newly nationalized Lloyds Banking Group, ahem). Take that Robert Parker–his policy is 14 times bigger than your policy! [BBC via sdelong]