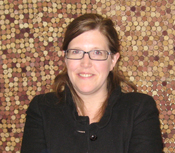 Christy Frank of Frankly Wines–last seen in front of her cork wall–returns with some answers to a few of my questions about the possible changes NY wine retail.
Size of store: 320 sq feet, possibly the smallest in Manhattan [66 West Broadway; Tribeca]
Style of selections: well-edited! My version of the well-stocked wine closet: including daily essentials, quirky finds, and higher end treasures. Selection skews toward the Southern Hemisphere.
price average: 50% of stock is $20 or less
A cool bottle: "Syrocco" Syrah 2006 (Zenata, Morocco) – eye-rolling aside at the clever, rhyming name, the wine is a great value at $16.99. Alain Graillot of Northern Rhone fame is the man behind this project.
Date store opened: December 14th, 2007
Position on proposed reform to allow food stores to sell wine: There's a Whole Foods around the corner, so the possibility that this will pass, combined with the current economic environment does worry me. Prior to opening my wine store, I ran the national business for several wine brands, so I understand that independent wine/liquor stores can co-exist with large, corporate grocery chains that also sell wine. However, given the current economic environment, this is probably not the best time to test the entrepreneurial spirit of the existing independent retail base to adjust to a drastically changed regulatory landscape. What I find interesting about this proposal is that the benefit (or possible lack of benefit) to the consumer barely enters into the discussion. The proposal was issued as a way to raise state funding, and as such, I think the financials need to be given real, detailed scrutiny.
I've seen top-line numbers from both sides, but the devil is in the details – and the only detail I have seen is the written testimony submitted by Whole Foods on 11/30/07 in preparation for last year's budget (found herein pdf). I hope that unlike the scenario in that document, the State's calculations take the negative consequences of existing store closures into account. I hope that "700 full-time-equivalent jobs" are enough to off-set the jobs lost due to those closings. And I hope that if passed, the actual franchise fee per location isn't actually 10% – 0.2% of location sales for small stores ($500K or less per year) and only 0.05% – 0.06% of sales for the largest stores.
My suspicion, although I welcome hard numbers that firmly indicate otherwise, is that this plan will transfer wine sales from small, local retailers to large, corporate chain grocery stores at the time when these retailers have the least chance of success to successfully adjust their business models.
What you might do differently if passed : I already focus on smaller, boutique brands and offer a very high level of service. Ideally, the legislation would allow me to sell high-end beer and a small selection of gourmet goods – without turning myself into a full-on grocery If a grocery store gets to tag wine onto their existing business model, I should think I should have the opportunity to tag beer and cheese onto mine.
And if grocery stores are now allowed to sell wine in multiple locations under the same corporate license, shouldn't wine stores be given the same ability to gain scale and compete? I'd love to see Frankly Wines logos in locations across the city….I bet I can pick up some old Starbucks leases on the cheap…if only I could find the funding.