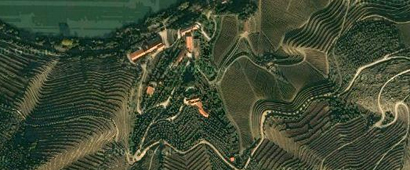 Yesterday I attended a vertical tasting of single vineyard, vintage ports from Taylor's Quinta de Vargellas. Adrian Bridge, managing director of Taylor-Fladgate, was in attendance in NYC and regaled our group with stories not only about the wines but also about how a local town's population astonishingly dwindled from eight to three and how an enormous St. Bernard slashed a local realtor's pride.
More details to come on the wines, the Quinta de Vargellas, and Adrian's comments on specialty port.
But what grabbed my attention for immediate posting was the fact that they keep a guest book at the winery at Vargellas where visitors are requested to write a poem. I don't know if these are impromptu poems or if they are told about this before lunch and then have to produce one after lunch–indeed, some of the poems seemed quite "lunch" influenced.
Most of the poems do not have the author's name attributed in the brochure, but a few did. In the latest addition to our series "leaders and liters of wine," consider this poem from a visit (during a war!) by the sitting Defense Secretary of the United States. I've redacted his name and his wife's for your guessing pleasure in the comments.
"From out of the sky they flew into Vargellas,
Richard Cheney, his party and Lynne.
But the hosts in Oporto forgot to tell us
the numbers we had to fit in.
Mais Cabirto called "Gilly,"
the hostess so cool,
as forty turned seventy three.
While the wine-hacks with training stood by at the pool
serving port to all they could see. "