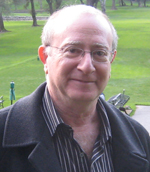 "I was a lawyer for 25 years; I'm different than everyone else in this room because I am not interested in the truth."
So Ross Schwartz told the assembled group at the Symposium for Professional Wine Writers in Napa last week. Schwartz, formerly an entertainment lawyer based in Los Angeles, wrote the screenplay for the movie Bottle Shock, which stars Alan Rickman and recently appeared on DVD. It loosely depicts the events of the Paris tasting of 1976 when a Chateau Montelena Chardonnay and a Stag's Leap Cabernet Sauvignon surprised the wine world by beating their French peers in a blind tasting. Schwartz elaborated on his goals for the screenplay, "When people walk out of the movie, I just want people to know who won the tasting and to want to buy a good bottle of wine."
He said that he initially rebuffed the idea when his wife suggested writing a screenplay about the famous tasting, saying, "there's nothing more boring than a wine tasting for people who aren't tasting wine because it's not a spectator sport! It's not like Seabiscuit coming in–is he going to win at the end–or Rocky–is he going to get up? It's a bunch of people swirling and spitting wine!" To make it work, he originally thought to frame it as a murder mystery in the vein of Who Is Killing the Great Chefs of Europe? (IMDB) But ultimately he decided it should have the excitement of a sports movie and chose the Disney movie Cool Runnings as a model.
I caught up with him after his panel presentation and he told me that he has been collecting and consuming wine since 1976 when he went to college at UC Berkeley. He started researching the script in 2001 (well before Taber's book was published, he pointed out) on "the Napa side" by talking to Jim and Bo Barrett of Chateau Montelena and their then-winemaker Mike Grgich. He also talked with Warren Winiarski of Stags Leap but in the end decided to focus on the Montelena side of the competition.
But after reading the script, Grigich asked to be removed. So instead of the winemaker-Bo Barrett rivalry, the producer and director decided to play up the father-son rivalry instead (the director and Jody Savin both also receive writing credits for the movie). Schwartz said that they also modified his screenplay in several ways, including cutting the mention of Winiarski's wine to a mere mention in the final scroll at the end and moving the final tasting outdoors. He also said that the role for Patricia Gallagher, Spurrier's assistant who went on the preliminary mission to California, was cut after Alan Rickman signed up for the film.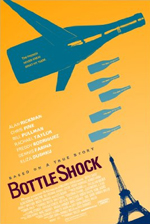 Schwartz said that the movie got into the Sundance film festival at a difficult time. Two years prior, in 2006, Little Miss Sunshine had been scooped up and rose to Oscar heights. Thus, he said, that movie houses bought too many films out of Sundance in 2007 and were stung, leaving them to only take four out of a hundred or so in 2008. Bottle Shock was not among them. So the producers decided to self-distribute, got it into 20 theaters for a national launch last August (eventually reaching 450), and it is now being shown extensively on airplanes.
As with the rival productions depicting Truman Capote's life a few years ago, Bottle Shock was one of two movies being made about the famous Paris tasting. The other project bought the rights to George Taber's book about the event, Judgment of Paris, signed on Robert Kamen as screenwriter, and today, has stalled. That project also had the support of Steven Spurrier who arranged the tasting in 1976 and today is a contributing editor to Decanter magazine. Schwartz claims he has a financial interest in the project.
Schwartz said that Decanter published stories about Bottle Shock that were "at least hype and certainly manipulative." He pointed to this story that suggests actors "such as Jude Law and Hugh Grant" were in consideration. "They were trying to knock out our financing," Schwartz said. "They didn't even have a script!" He also pointed to their coverage of the movie after it debuted at Sundance.
"Their banner headline read 'Bottle Shock opens to mixed reviews.' Well, we got glowing reviews in Variety, Reporter, and Rolling Stone. There were some blogs that didn't like us. They immediately went on to talk to some people who were running some blogs to say how terrible the movie was. But you can't say when we got glowing reviews in the big papers that matter and some blogs found fault with it, you're going to have a title that reads 'opens to mixed reviews.' And then not say that the senior editor has a stake in the other movie?" (For a roundup of reviews of the movie, check metacritic.com.)
Reached for comment, Adam Lechmere of Decanter said that the magazine's relationship with Spurrier did not influence their coverage.
Reached for comment about his financial interest in the rival movie, Spurrier wrote via email that he sold his life rights to the Judgment of Paris project for $1,000. He elaborated, "I was an adviser to the project and was due to receive a fee if the movie had been made. As it was, these people walked away from the project over a year ago." Finally, he added about Bottle Shock, "no doubt I shall have to watch it on my flight to Singapore next week, but at least it will be from the comfort of First Class, with a glass of Dom Perignon to ease the pain."
Schwartz is devoting his energy to screenwriting and has written eight and sold one (Bottle Shock) but is optimistic that he will sell another script soon. He told me that a studio rejected one script of his because it was not expensive enough to make so he has written another that "can't be made for less than $60 million."
He also retains a handful of clients in his capacity as a lawyer, principally his father, Sherwood Schwartz, who created and produced Gilligan's Island and Brady Bunch. He also represents the Beach Boys who are still touring 200 dates a year (who knew!) and he describes them as "recession-proof," saying, "everybody wants to see the Beach Boys!"