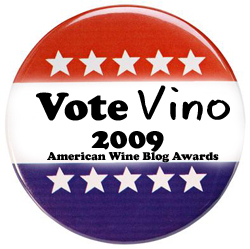 Voting is now under way for the 2009 American Wine Blog awards! This blog has been nominated in two categories, best wine blog and best wine blog writing. Head on over to the Fermentation, check out all the blogs since it can be a good way to discover new ones, and then cast your vote!
And while you're there, be sure to Vote Vino! Yes we can!
The past year has been a great year and I thank you for your participation in making this blog lots of fun. Looking forward another year of wine talk that goes down easy!