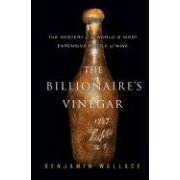 What do you get when you cross Jurassic Park, Mission Impossible, the most recent Indiana Jones with a tale of fraud in fine wine? The apparent answer is: the movie version of The Billionaire's Vinegar: The Mystery of the World's Most Expensive Bottle of Wine.
According to Variety, the superb wine book now has writer/director David Koepp on board the movie version. With those action movies under his belt, the odds of a chase scene in the movie now stand at 2:1. The main question is whether they will be running with bottles of 1787 Lafitte in hand.
When I previously posted about the book, I wondered if they would amplify the tiny role that women occupy in the book. And even before that, we were speculating about casting decisions. Add your new thoughts if you have any!
As with the Capote movies and two movie versions of the Paris Tasting, there were at one point last year two productions happening around this juicy tale of bling and fraud. This version seems to be inching closer to becoming reality.