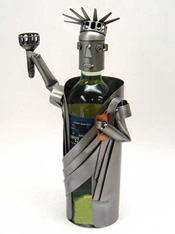 Reading about wine may be fun but there's a lot to be said for tasting it. Many wine stores offer tastings, which are always free in New York and may be the best priced tastings for our times. But if you can rub two shekels together, there are some other paid events that offer some good opportunities in the near future.
February 21 & 23: natural wine Nirvana. Hirsute and Birkenstock-clad natural wine wine producers, vignerons, and "nature's assistants" will descend on NYC next weekend. The first, smaller (and cheaper) event will be at Astor Center, which will feature seven natural wine producers. (Feb 21, 3:00 PM – 6:00 PM; $15)
The main event is the Return to Terroir tasting of 76 biodynamic wine makers from thirteen countries. They will be pouring what are some of the most exciting wines made today. It's principally a trade event but it does open to the public from 4:00 – 6:00 PM on Feb 23 for $100 admission. If you're curious about the slow-motion collapse of the French appellation system that I discuss in my book, Wine Politics, the iconoclast Nicolas Joly of Coulée de Serrant will be giving a talk mostly about biodynamics and perhaps a bit of appellation politics at 4 PM. I will also be signing copies of my books there from 4:00 – 5:00 PM and earlier in the day (if you're in the trade). Stop by and say hi! Registration (For DC readers, the event will be held there the following day.)
March 7: At $1,400, my initial reaction to the La Paulée Burgundy bacchanlia is, "Holy crud! People still have that kind of scratch to blow on one evening?!" But fortunately the festivities also include a tasting of top Burgundies Saturday afternoon from 12 – 3. Even though it is still pricey at $300, Daniel Johnnes, the force behind the event, has lured Jean-Francois Coche to these shores for the first time ever, which means the big three of Meursault will be pouring that afternoon–Coche, Lafon, and Roulot–along with many others (see the complete list). Given what just one of those wines would cost, it actually might just be a bargain–and a must for Burgundy buffs. (reservations and details)
March 12: I'll be signing copies of my practical guide, A Year of Wine, at Pasanella & Son, a wine shop at 115 South Street. Drop by, sample some of the free springtime wines and see if the 1967 Ferrari is still in the store! Map it
For more NYC wine events, be sure to check out localwineevents.com.