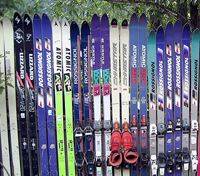 SPIT: Robert Parker
Business Week announces that Nick Passmore will be writing a twice-a-month wine column for the magazine. Robert Parker will no longer be contributing to the magazine. But what will US Airways do with all those tray tables?!
SPIT: Champagne saber
American skiier Lindsay Vonn may be out of World Cup ski competition, despite being the overall leader this season. Why? A Champagne injury. "Vonn received four stitches in her thumb after picking up a bottle of champagne opened with the edge of a ski and trying to spray it over guests attending a private party on Monday following her victory in the downhill at the World Ski Championships." [Telegraph]
SPIT: water
Deadly forest fires in Australia have encroached n vineyards; 15% of the crop could be lost. [Decanter]
SPIT: water, part 2
A lack of rain plagues California vineyards. [KCRA]
SPIT: Luxe
Profits at LVMH were dragged down by slumping Champagne sales [AP]; the Naples charity wine auction brings in about $5 million, a third of last year [Decanter].
SIPPED: supermarket wine
Tennessee also may allow wine sales in grocery stores. [AP]
[Update] SIPPED: Chianti and lubrification!
"Our data shows that women who reported drinking 1-2 glass of red wine daily have higher FSFI scores for both sexual desire, lubrification and overall sexual function." [Sexologies, thanks reader Bill!]