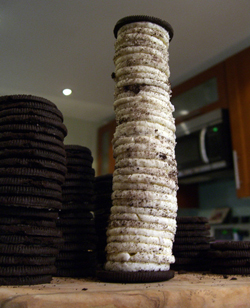 Last Friday, there was a sleepy little site called This is why you're fat that welcomed eight visitors. Today, the site will have over one million visitors!!
But that vertiginous traffic spike is not the only thing that will leave you feeling woozy; such dishes as the Turbaconducken (a chicken and a duck cooked inside a turkey, which is, in turn, covered in bacon), the 60-pound Rice Krispie treat, the seven pound breakfast burrito, or the meat ship (made from bacon, sausages, pastry, franks and pork mince) ought to do it as well.
There are so many things on there that are impossible to pair with wine we should really have it as the sister site to our impossible food-wine pairings! But in the spirit of Valentine's Day, let's just tackle a chocolate one: the mega double stuff Oreo, photographed at right. So just which wine would you pair with that blend of hydrogenated soybean oil, high fructose corn syrup, soy lecithin, and chocolate? Or is it…impossible? Or feel free to weigh in (ahem) on any of the other delicacies on the site that strikes your fancy.