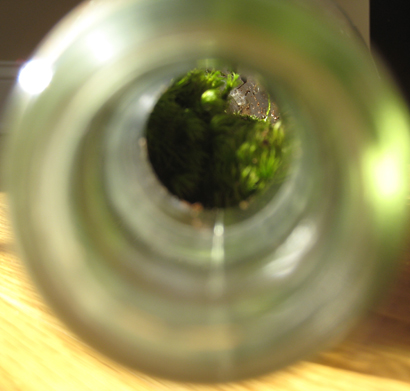 It's been a long, cold 2009 here in the northeast. All the more reason to have a little winter garden. In a wine bottle.
Last fall, I discovered and was immediately inspired by the work of Paula Hayes, an artist in the East Village. What captivated my attention were her beautiful terrariums, exquisite miniatures of nature (which you can see in excellent photography on her website).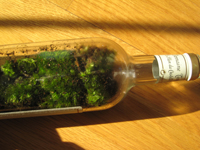 So I did my best to replicate her art using my own medium: wine. My five-year-old son and I went into the woods last fall and collected two kinds of moss. He made his own terrarium in a glass cookie jar; I made mine in a bottle of Domaine Tempier rose 2007, my favorite rose from last summer. Unlike most wine bottles, rose bottles are clear to show off the eye-popping color of the wine. This also makes them better terrariums!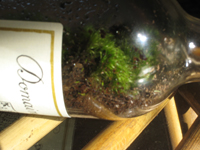 I first added dirt to the bottle. Then I ripped off chunks of moss, compressed them and shoved them through the wine bottle's neck with a chop stick leftover from a previous takeout. A few pokes and prods later, I had them all lined up. The only problem was a bit of schmutz and condensation on the upper part of the glass; I'll have to drop by Paula's studio and ask for tips on terrarium schmutz removal. But now at least all the moss pieces have actually grown together to form a rich green carpet. And there you have it: mossage in a bottle.