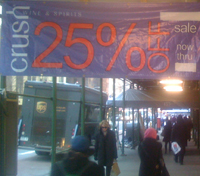 "Rampant price discounting in the wine industry means 2009 will be party time for wine drinkers while winemakers will be left with the hangover."
Low prices! Party time! Love it! Oh, wait, that quote actually came from New Zealand's stuff.co.nz and was referring to a "massive harvests" in Australia and New Zealand.
Here in the US, it may be a different story. Restaurants, many of which have seen a sharp decline in their business, seem to be doing a lot to attract diners, as Frank Bruni detailed on Wednesday in the Times. This includes cutting wine prices, which in many cases, certainly had plenty of room to come down. To the tape: "Wine discounts, waived corkage fees or wine lists showcasing less expensive bottles can be found in Midtown at Alto and the Modern, where bottles under $50 appear in the Bar Room as "wines for our times"; in TriBeCa at Capsouto Frères; and in Greenwich Village at Perry St., owned by Jean-Georges Vongerichten."
A story in Wednesday's LA Times suggests that New Zealand's party time may even have arrived on the West Coast. Patrick Comiskey writes that there's a "mini-boom for wine lovers" and describes "a buyer's market for retailers and consumers alike." But much of what the article describes sounds like smaller retailers stocking more wines at lower price points although some larger stores are using their heft to extract deals from wholesalers "whose warehouses are full of inventory accumulated in better days and who are striking deals to move it out."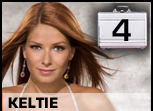 Here in New York, it doesn't seem like "party time" has made it to stores. Sure, there are a few across-the-board sales in January and February, such as Moore Brothers 10% off everything and Crush Wine & Spirits 25% of whites one week and then reds. But these types of sales happen after the holiday binge every year, the same as case discounts at some retailers. Some stores seem to be offering more selective sales either through a store card or special clearance items. And there's a stream of emails announcing one or two selections–sometimes more–of fine wine that have become available, perhaps from a distributor, perhaps from a collector. But to get the most for your wine dollar, it seems you have to be opportunistic and well informed and discounting is far from "rampant."
What's happening near you? Is it deal or no deal? And if you live outside the US, be sure to share your thoughts too.