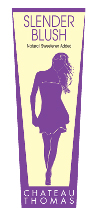 A new series of wines from Indiana (search for "Slender" wines) claims to be sugar free, using a non-caloric sweetner instead for all their wine sweetening needs. As their press release states, "even though [the sweetner] has the identical flavor spectrum as sugar, it has no side effects because it cannot be metabolized by the human body."
Mmm! Nothing says good times like putting indigestible things that you put in your mouth–or a Chenin Blanc rosé (?!?) or a glass of sweet Rubired, the rosé and the red in the lineup of so-called Slender wines. Just to crank it up a notch, they also note that it "prevents tooth decay." And, people, we might have a new finalist for this year's worst wine label contest!
But since most of wine's calories actually come from the alcohol in it, perhaps the ultimate diet wine is a dealcohlized wine with some indigestible sweetner?
Site reader James wrote in with the tip and side order of outrage: "It's got a Splenda nose! A real Sweet 'N' Low note on the finish. AAAAAHHHHHHH. File it under Wine of the Apocalypse."
Riffing off the famed late harvest wine, I'd have to go with Trockenbeerensaccharinelese. And you?