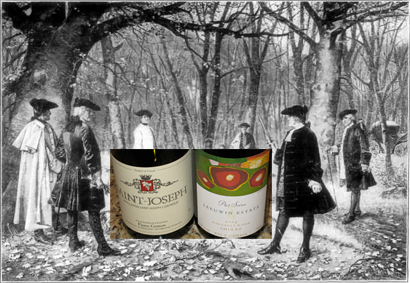 Okay, there was no shootout. Sort of a duel, but without the guns, wounds or Aaron Burr.
In honor of Australia Day last week, and because I think syrah is most seasonally apt in the winter, I tried a Northern Rhone syrah against an Aussie shiraz. Normally you'd think this would be a no-brainer since although it is the same grape by a different name, the stylistic differences can be oceans apart (literally).
But I did try to raise the degree of difficulty by picking a "European-style" shiraz, the Leeuwin Art Series 2005 from the Western Australia region of Margaret River with an alcohol level of rolling in at a mere 13% (find this wine). Against it, I poured a Saint-Joseph '06 from the small producer Pierre Gonon (find this wine).
I found the Gonon to be excellent, with notes of characteristic black olives that I really dig in a good St. Joseph. It has a mouth-filling character thanks to some gentle oak but has a minerally, ashy core that gives it great poise and balance. The Leeuwin, by contrast, has much more fruit-driven aromas–think raspberry, cherry, and blackberry–as well as a dash of eucalyptus freshness. The palate was bigger than the Gonon and more New World but not to the point of being jammy or extracted. And the lighter alcohol was a relief from many a shiraz.
I was with three other people and although the Gonon edged ahead in my view, the group split with two for each. So the showdown saw both participants walk away unscathed. If only Hamilton had been so lucky.