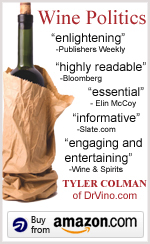 As I have mentioned previously, my book, Wine Politics: How Governments, Environmentalists, Mobsters, and Critics Influence the Wines We Drink, will be published in Korea. Here's a note from my Korean agent:
Dear Mr. Tyler Colman,

The translator inquired about the meaning of "scientific wild-ass guess" in page 93 of this book. Would you please explain this to me?

I look forward to hearing from you.

All the best wishes,
The reference was from a California winemaker who, upon launching his new wine, pulled the price out of thin air. Or elsewhere.