Last year, supermodel Gisele Bundchen caused a stir by sipping wine during the Super Bowl. Some even thought this act caused the Patriots' star quarterback Tom Brady, her beau, to crumble, bring the team down with him.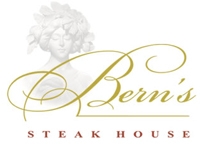 Fans of the Steelers and the Cardinals who make it to Tampa for this year's Super Bowl on February 1 are, given the scant attention paid to wine at stadiums, likely to have few such vinuous distractions. But Tampa does have one wine destination worth flagging: Bern's Steakhouse.
The restaurant has a legendary wine list with about 600,000 bottles that have been accumulated constantly since the restaurant opened in the 1950s. Some are housed in the 3,000+ square foot wine cellar in the restaurant but the bulk of the collection is stored in two temperature controlled warehouses off premises. Stars of the collection include an 1851 bottle of Gruaud Larose, some Madeiras from the 18th century, and large verticals of Bordeaux.
I've never been to the restaurant but I was talking with an NYC wine collector last year and he told me about weekends that he and his wife like to take in Tampa to visit Bern's. They go with four to eight friends and make reservations for Friday and Saturday night. They have a lengthy meal on Friday, sleep in on Saturday, get manicures or play golf (they said there's not a lot to do), then go back for a huge, long dinner on Saturday that can last ten hours at the table as they plunder the cellar. Whoa! Who knows if they are keeping this up hedonism in recessionary 2009 but it shows what damage wine lovers could do at the restaurant. A lot more than in the stadium, that's for sure!
Related: "Eric Renaud Senior Sommelier" [WSJ.com]