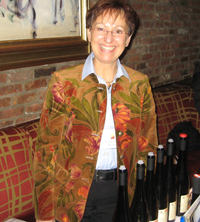 Christine Saahs of Nikolaihof was the first to apply Rudolph Steiner's philosophy to viticulture, thus cultivating her vines in Austria's Wachau region biodynamically. The Im Weingebirge Smaragd bottling is always one of my favorite gruner veltliners and indeed the 2006 I tasted had great, rich intensity and a long minerally finish. The 2007 Hefeabzug for half the price offered great zip and zest overlain on a mineral core. Nikolaihof also makes several very good Rieslings. I was happy to have the chance to chat about three things during a busy trade tasting on Tuesday.
How was the 2008 vintage for you?
For the biodynamic growers it was fabulous. There was a lot of rain; it rained every day for three months. But it wasn't often a heavy rain and the leaves were just wet, which caused fungus problems for many growers. But we are so happy with the quality of our wines and harvested our Smaragd in the third week of September, earlier than many others. For us, the vintage was less quantity but great quality.
Describing her Gruner Veltliner "Hefeabzug" (about $25; find this wine):
It's such a refreshing aperitif. The wine has such energy that customers say they can't sleep after a glass. It's much better than anything from the pharmacy–it's a natural energy drink!
Is Austrian Riesling too high in alcohol? [Hers are 12.5%]
No Austria is one of the best places for Riesling in the world. Rising alcohol is not a problem of global warming; it is a problem of wine journalists who give high scores to high alcohol wines. Customers are always asking me for low alcohol wines because they want to be fresh after a bottle. Have a bottle of 14.5% alcohol wine and you're dead! Well, not you because you are young, but me, I'd be dead!
As a side note, Christine told me she doesn't say "cheese" for photos; she says Riesling!