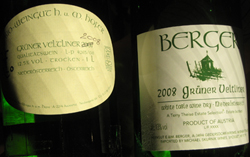 We all know bigger is better. No, not that way; get your mind out of the gutter. When it comes to wine, the reason is at least twofold. First, a bigger bottle has a lower carbon footprint per ounce of wine because there's a more favorable wine to packaging ratio. Second, more wine!
I'm not sure how important the first of these two reasons is for wine consumers but the second is one of those things that everybody can agree is a good thing.
And so they have. Jonathan Schwartz, the hirsute portfolio manager of Terry Theise wines for distributor Michael Skurnik, says that sales of his five one-liter Gruner Veltliners from Austria have been zooming. "Restaurants like them because it's an extra glass and a half per bottle for wine-by-the-glass pours. Wine shop customers like them because it's a glass and a half more wine." (A standard bottle has 750 ml.)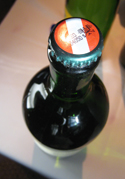 He said that people are interested in the closure too, which on the Hofer and the Berger, the two best selling of the wines, is a crown cap (think: beer).
So which is better? I tasted them at the Skurnik tasting today. Both are simple versions of Gruner Veltliner, clean and zesty with a minerally verve. The 08 Berger (about $11; find the 2007 or the 2008) is slightly softer and the 08 Hofer slightly more tart (about $11; find the 2007 or the 2008). The wines are both an easy extension for people who love pinot grigio but are looking for something new. Hofer is made biodynamically, which goes to show that biodynamics and low price are not antithetical to each other. Berger is practicing organic. Gru Vee.